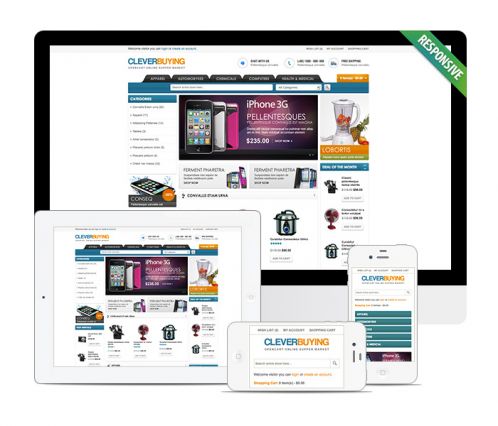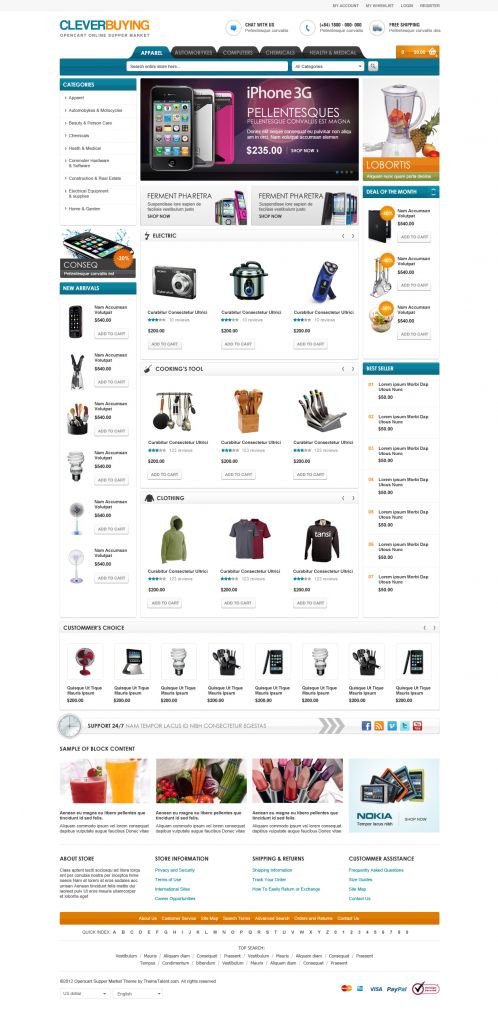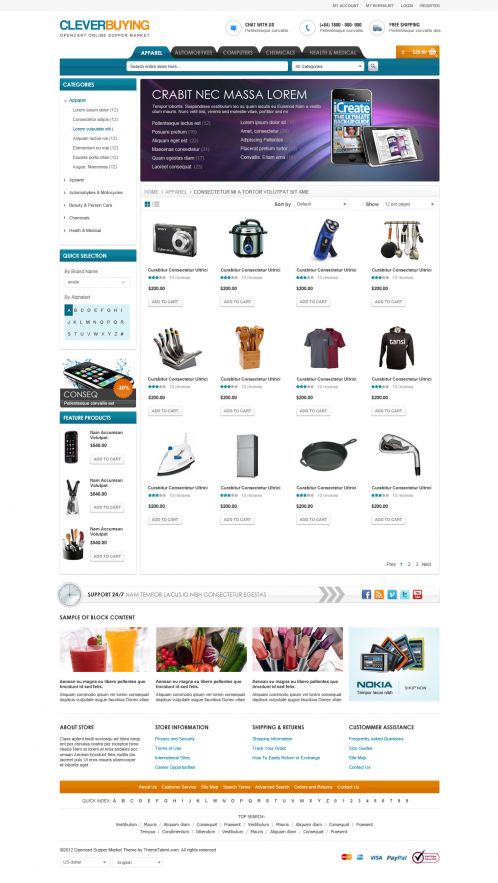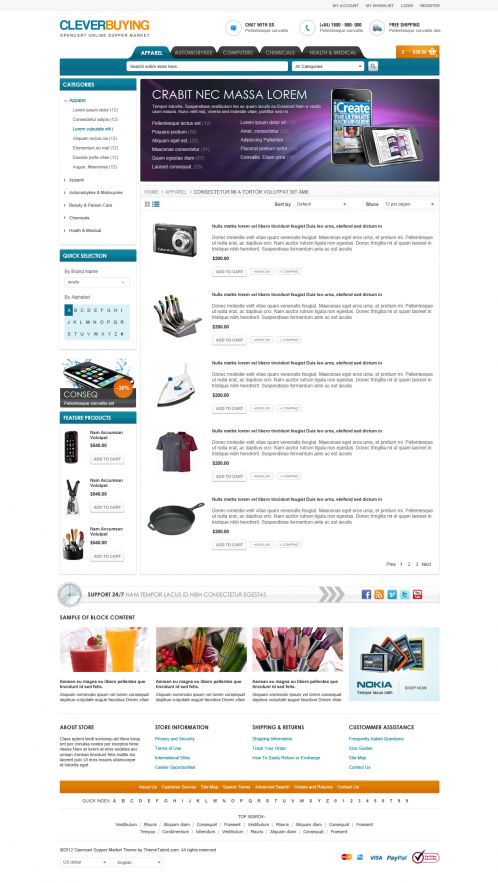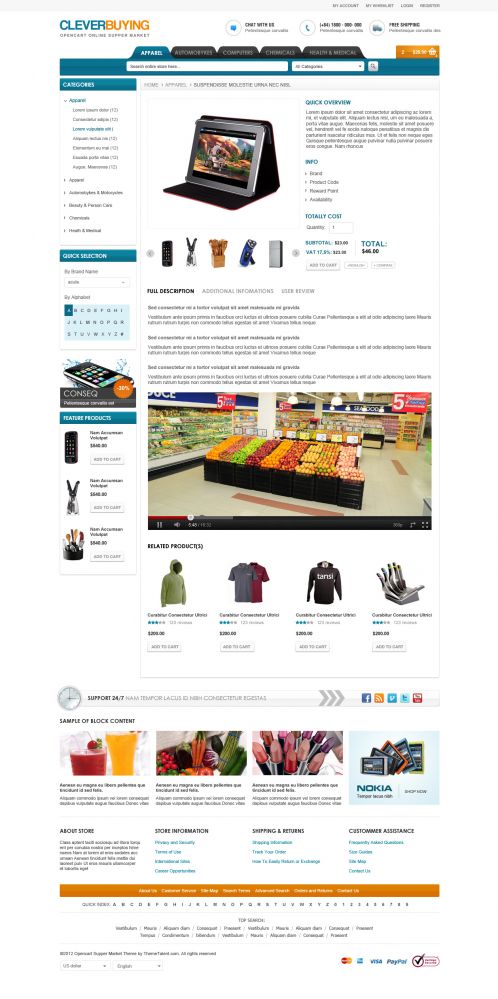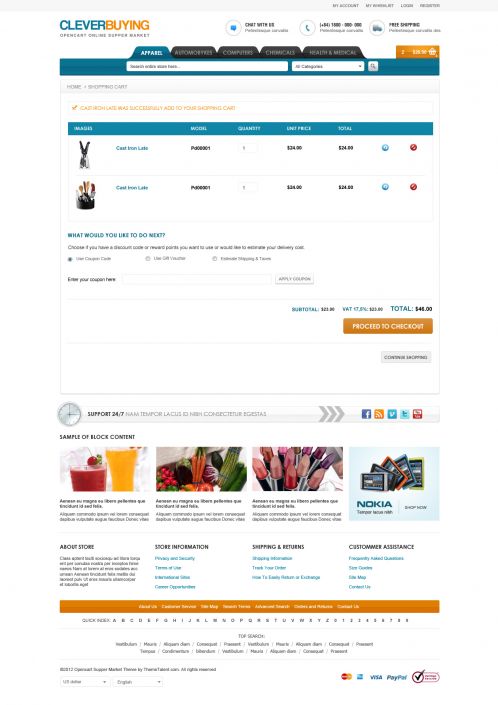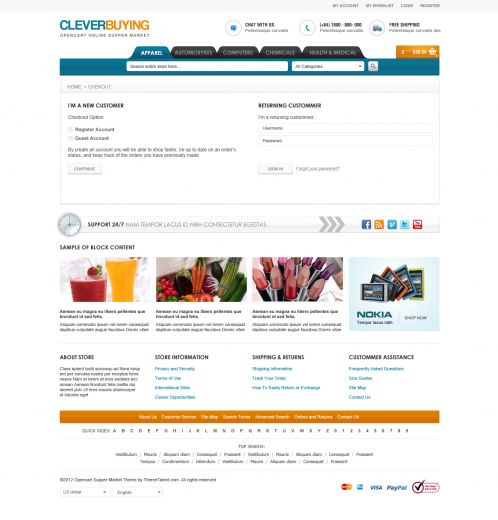 Shopping Mall OpenCart Theme - CleverBuying
$69
Now available for OpenCart version 1.5.6.4
---
Bosstheme's opencart Clever Buying template is a good choice for many users in many industries. The layout of this design can be used for businesses in many different industries, including small supermarkets, electronic stores or even kitchenware shops. That's why we named this framework "Clever"!
Besides a simple, nice-organized layout, Bosstheme Clever Buying templates all features to visually satisfy visitors and technically comfort users. Small promotional spaces displayed in the sides, featured product groups appear in left/right columns, featured categories placed in centre on homepage. Together with white and blue background, all products are easily shown to customers without disturbing their concentration . Most importantly, this design contains Responsive Web design (RWD) feature which will automatically fit into all the device screens. No more broken images, no text error even they surf the site on PC or mobile phone.
Moreover, a friendly slideshow, new Boss-Search and Boss-Zoom modules make shopping experiences more exciting and interesting.
Although the template is equipped with many powerful features, they are all friendly to user and can be easily controlled in back-end. Have a look at this awesome framework!
Responsive Web Design
New Module Boss - Products by Alphabet: Classify Products by Alphabet Letters
New Module Boss - MegaMenu: Mega menu with many custom options

Configure menu in backend
Configure width and columns of dropdown menu
Configure columns for each option
Configure header menu and support multi-language
Configure many types of flexible menu by combining options together.

Link to website's address
Multiple categories
Featured Products
Static content
Manufacturers
Informations

New Module Boss - Home Featured Categories

Show product filters by category on homepage (with or without elastislide slider)
Ability to choose category on backend

New Module Boss - Home Filter Products

Show product filter on homepage
Product groups

Popular Products
Special Products
Best Seller Products
Latest Products
Choose a category

New Module Boss - Home Column Filter Product

Display filtered products on the column left or column right
Product groups:

Popular products
Special products
Best seller products
Latest products
Choose a category.

New Module Boss - Slideshow

Show 1 FlexSlider on homepage
Ability to configure image, captions and urn in backend
Multi-language for caption

New Module Boss - Static Block

Show static content in many different positions and layouts
Configurable in backend
Multi-language for content

New Module Boss - Zoom

Use cloud zoom and colorbox simultaneously.
Zoom on hover and Enlarge on click.

New Module Boss - Search

Show search module in header for all pages
Search by category, besides default search features.

New Module Boss - Quick Selection: Choose category and its icon to show on front-end.
Free Module Manufacturer: Dropdown box manufacturers
Set up full site and theme on the existing source of opencart

Fast configure modules to closer to demo site
Using vQmod to overwrite controllers

Other features and functions:

label save off for special products
Configurable side column position (left or right)
Single or multicolumn layout (configurable)
Grid / list products view
Specifications
OpenCart version compatibility
1.5.4, 1.5.4.1, 1.5.5.x, 1.5.6.x
Keywords
opencart shopping theme, opencart supermarket theme, opencart mall theme
Sub themes
---
OpenCart theme's features
Fully compatible with latest version.
All sub pages are customized and optimized.
Promotion banners designed to follow the theme subject.
All PSD design files included and well organized.
Full user guide documentation to help you install and utilize the theme.
Included installer script to quickly install the theme on your existing store.
SEO & web industry standard compliance
Div/Tabless HTML mark-up.
XHTML 1.0 Strict valid
CSS 2.0 and CSS 3.0 valid
Cross-browser support. Compatible with all major browsers such as IE7, IE8, IE9, Firefox 3/4/5+, Safari 5+, Chrome 5+, Opera 10+.
SEO (Search Engine Optimization)-orient in design and development, fast loading
Well-structured and commented HTML & CSS for easy customization
Customer care
Secure payment
Our server is secured and tested daily. We don't store your credit card.
Life-time free update
You have lifetime free upgrade when the new version released.
Dedicated support team
We have full-time support staffs with strong experience in OpenCart.
99.9% customers satisfied
Our goal is to satisfy our clients and keep clients stay with us.
---